Pressure Sensors

List of Pressure Sensors with TEDS
TEDS(Transducer Electronic Data Sheet)
What is TEDS system?
TEDS (Transducer Electronic Data Sheet) is a general term for the description format defined by IEEE standard. It allows the sensor-specific information to be read/written electronically from/to EEPROM incorporated in the sensor.
Writes information to the TEDS chip located at the end of sensor cable or inside of connector.
Chip information:
TEDS data / Rated capacity (unit) / Rated output of sensor / Max. excitation voltage / Input terminal resistance / Calibration date
Reads the sensor information at power ON to perform calibration.
Sensor information can be displayed and rewritten.

TEDS-compatible amplifiers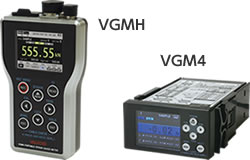 Model designation example
For models with TEDS, add -T to the model number, and specify the cable end treatment (Connector or Loose)
For VPRF
Rated capacity 1MPa, Cable on sensor side, With TEDS

VPRF-1MPS-T(Cable 3 m, Standard connectors) Example: SK-S3-3M-T

Rated capacity 1MPa, Satndard connector on sensor side, With TEDS

VPRF-1MP-T(Cable 3 m, Loose wires on sensor side) Example: KN-S3-3M-T
Compatible list
*Explosion-proof is not supported
Wiring connection diagram