2 Comparison Setting type Pressure Switch with Internal Setting Trimmer

Waterproof M type series
With comparison setting 2 output

50kPa–100MPa
50kPa(abs)–1700kPa(abs)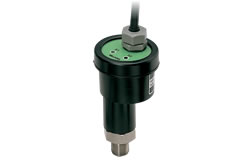 Please contact each sales office for instruction manuals.
Contact output response as fast as approx. 1 ms.
High accuracy and long life.
Can be used in combination with a variety of pressure sensors.
Measuring Medium
Air, gases, water, oil, etc.
(Depends on the material of sensor.)
Pressure Type
Positive, negative, and absolute pressures can be measured. (Compound pressure cannot be measured.)
Measured Range
Pressure sensor series ranging from low pressure, absolute pressure, and medium-to-high pressure up to 100 MPa are available. (Can be selected according to the range of pressure to be used.)
Specifications
Display
Operation check lamp
Use Temperature Range
Temperature: −10 to 55°C (No freezing)
Use Humidity Range
Humidity: 0 to 85%RH (No condensation)
IP Rating
Equivalent to IP55
Setting Method
Via setting trimmers in the case
Dimensions
Pigtail cable type: φ60×58 (D: Protrusions not included)
Waterproof connector type: φ60×66 (D: Protrusions not included)
Weight
Approx. 200g (Varies with specification)
Accessories
Operation manual 1 copy (Specify English or Japanese.)
Test report 1 copy
Model Selection

Pressure Sensor or Load Cell Selection
Refer to Selection Table for Pressure Sensors for specification and model numbers and specify the desired model.
[e.g.] MQ - B - S - 50MPa - HH - 4 - P / VPRQ - 50MP
Selection
Check
Model
Specifications
1.Model
○
M
Waterproof M type pressure switch with internal setting trimmer
2.Applicable Pressure Sensor
(*1)
-
-
Applicable sensor model
Non Linearity
Connection screw
Pressure type /
Rated capacity range
Medium to be measured
N
Discontinued
VPMR
±0.2%R.C.
(*2)
R3/8
Gauge pressure:
5–350kPa
Gases
(inactive gases)
NF
Discontinued
VPMG
±0.2%R.C.
(*2)
G3/8
RN
Discontinued
VPRNP
±0.25%R.C.
R3/8
Gauge pressure:
100–1700kPa
Absolute pressure:
100–1700kPa abs
Medium that will not corrode SUS316L
RNF
Discontinued
VPRNP
±0.25%R.C.
G3/8
PR
VPNPR
±0.25%R.C.
R3/8
Gauge pressure:
100–1700kPa
Absolute pressure:
100–1700kPa abs
Medium that will not corrode SUS316L
PG
VPNPG
±0.25%R.C.
G3/8
HR
VHR3
±0.2%R.C.
R3/8
Gauge pressure:
50kPa
Absolute pressure:
50kPa abs
Medium that will not corrode Hastelloy C22 or SUS316L
HG
VHG3
±0.2%R.C.
G3/8
AR
VAR3
±0.2%R.C.
R3/8
Gauge pressure:
100–700kPa
Absolute pressure:
100–700kPa abs
Medium that will not corrode Hastelloy C22 or SUS316L
AG
VAG3
±0.2%R.C.
G3/8
HV1
HV1
±0.2%R.C.
VCR1/4 Male screw or equivalent
Gauge pressure:
50kPa
Absolute pressure:
50kPa abs
Medium that will not corrode Hastelloy C22 or SUS316L
HS1
HS1
±0.2%R.C.
Swagelok® tube fitting 1/4 or equivalent
AV1
AV1
±0.2%R.C.
VCR1/4 Male screw or equivalent
Gauge pressure:
100–500kPa
Absolute pressure:
100–500kPa abs
Medium that will not corrode Hastelloy C22 or SUS316L
AS1
AS1
±0.2%R.C.
Swagelok® tube fitting 1/4 or equivalent
NV1
NV1
±0.25%R.C.
VCR1/4 Male screw or equivalent
Gauge pressure:
100–700kPa
Absolute pressure:
100–700kPa abs
Medium that will not corrode SUS316L
NS1
NA1
±0.25%R.C.
Swagelok® tube fitting 1/4 or equivalent
T
VPRT
±0.2%R.C.
R3/8
(100MPa:R1/2)
1–100MPa
Medium that will not corrode 15-5PH
TF
VPRTF
±0.2%R.C.
G3/8
(100MPa:G1/2)
Q
VPRQ
±0.8%R.C.
R3/8
1–50MPa
Medium that will not corrode 15-5PH
QF
VPRQF
±0.8%R.C.
G3/8
(100MPa:G1/2)
1–100MPa
NFF
VNF
±0.25%R.C.
G3/4
Gauge pressure:
100–1700kPa
Absolute pressure:
100–1700kPa
abs
Medium that will not corrode SUS316L
F
VPRF
±0.5%R.C.
G3/8
1–50MPa
Medium that will not corrode 15-5PH
3.Direct connection to sensor
○
B
Direct connection to sensor
4.Cable Connection type
S
Pigtail cable
D
Waterproof connector
5.Calibration
Specify the range within the rated capacity of the applicable pressure sensor.
(Within 50% of the rated capacity)
Refer to Selection Table for Pressure Sensors for the rated capacity.
6.Output type
-
-
Output type
Response time
Permissible load
HH
2 setting/Open collector output
(S1:Higher limit S2:Higher limit) Standard
Approx. 1msec. or less
45V 100mA
HL
2 setting/Open collector output
(S1:Higher limit S2:Lower limit)
LH
2 setting/Open collector output
(S1:Lower limit S2:Higher limit)
LL
2 setting/Open collector output
(S1:Lower limit S2:Lower limit)
7.Power [Consumption current]
4
DC24V [40mA]
5
DC12V [40mA]
8.Bracket
(option)
Blank
No brackets
P
with Panel mounting bracket
External dimensions (Unit: mm)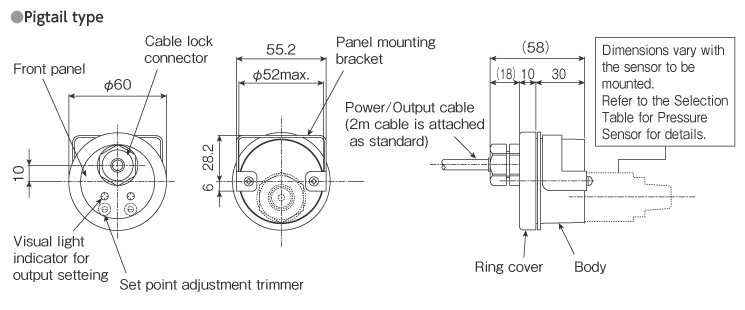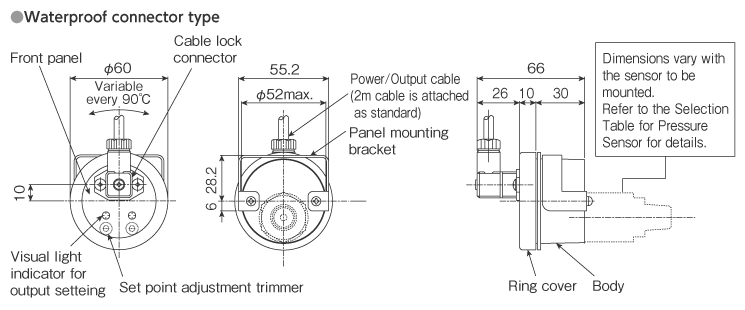 Electrical wiring specification