(Semiconductor diapharagm type & Thin film type) Pressure Sensor Device/Element

OEM Element

0–700kPa
0–700kPa abs

Semiconductor Diaphragm type Pressure Sensor Device / Element
Can be designed and made to meet customers' requirements.
Can be designed and made of Hastelloy C-22 equivalent or SUS316L.
High accuracy: 0.2%R.C.
High withstanding pressure: 300%
| | |
| --- | --- |
| Measured medium | Water, oil, gases or other media that will not corrode SUS316L and Hastelloy C-22 equivalent. |
| Pressure Type | Positive, compound, negative and absolute pressures can be measured. |
| Measured Range | 0–700kPa or 0–700kPa abs |
Element basics specifications
Non Linearity
±0.2%R.C.
Applied Current;Maximum
1mA
Output Voltage (Offset)
±2mV/mA
Output Voltage (Span)
85±30mV/mA
Input Terminal Resistance
4±1.5kΩ (at 25°C)
Insulation Resistance
100MΩ or more (DC50V)
Safe Overload Rating
300%R.C.
Compensated Temperature Range
(Temperature of medium to be measured)
0–70°C (No condensation or freezing)
Safe Temperature Range
(Temperature of medium to be measured)
0–100°C (No condensation or freezing)
Temperature Characteristic (Offset)
±1%R.C./0–70°C (25°C standard)
Temperature Characteristic (Span)
±1%R.C./0–70°C (25°C standard)
Pressure Port Material
Hastelloy C22+SUS316L
Type
Elements and R1/4, 3/8, G1/4, 3/8, VCR and Swagelok
Model Selection
Check
Specifications
Model
Rated pressure
Greatest pressure
ESG050E
50kPa
150kPa
ESG100E
100kPa
300kPa
ESG200E
200kPa
600kPa
ESG500E
500kPa
1500kPa
ESG700E
700kPa
1400kPa
ESA050E
50kPa abs
150kPa abs
ESA100E
100kPa abs
300kPa abs
ESA200E
200kPa abs
600kPa abs
ESA500E
500kPa abs
1500kPa abs
ESA700E
700kPa abs
1400kPa abs
Semiconductor Diaphragm type Pressure Sensor Device / Element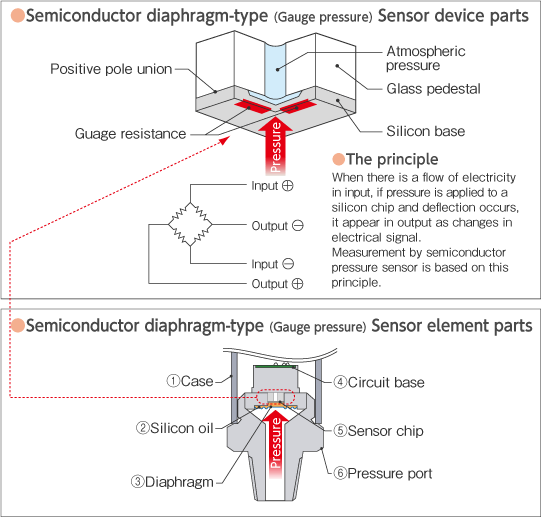 OEM production of semiconductor sensor devices and sensor elements
VALCOM also supplies OEM sensor devices and sensor elements.
Semiconductor silicon chips can be made with thicker diaphragm, compared with metal chips, which improves pressure resistance of pressure sensors. In case of sensor elements, double diaphragm system is adopted that receives pressure via highly corrosive-resistant metal diaphragm made of Hastelloy C-22 equivalent or SUS316L.
Sensor elements capable of measuring positive, negative, compound and absolute pressures can be manufactured.
Pressure port that is directly in contact with the media to be measured can be made of Hasteloy C-22 equivalent or SUS316L, which offers good corrosion resistance.
Excellent pressure resistance performance thanks to thick diaphragm of silicon chip for detecting pressure.
Element photograph

Element example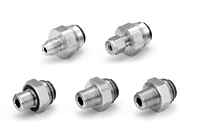 Element shape