Digital Pressure Meter

VSW2series Common function and wiring example
Function
Type
Function
Function about the setting output
Comparison value setting function
2 points of setting output comparison values (1 point for models with analog output) can be set.
Hysteresis / Window Comparator switching function
Setting output can be switched between the hysteresis mode and the comparator mode.
Normal open / normal closing switching function
Setting output can be switched between N.O. (normally open) and N.C. (normally closed).
NPN/PNP switching function
Setting output can be switched between NPN output and PNP output. (Output 02N is not supported)
Function about the analog output (with Analog output)
Analog output scaling function
Output range of 4–20 mA can be set.
Function about the display
Display color changing function
Display color for the setting output can be selected between red and green.
2nd display function
This function sets how the 1st display value is converted for full scale value.
Maximum and Minimum memory
Maximum and minimum display values can be stored in memory.
Peak hold
Maximum input values can be held.
Zero shift
Zero-point display value can be adjusted within ±20%.
Damping
Damping constant can be set to ignore minute changes in input.
Zero suppress
Zero suppress ON/OFF can be set.
Display update rate
Display update speed can be selected.
FIX zero function
This function allows the pressure change to be fixed at zero even though slight changes near zero are input.
Moving average setting function
Sampling width can be set to absorb minute changes in input.
Other functions
Simulation function
Display value can be changed even when there is no input so that setting output
or analog output may be enabled.
Key lock function
Key switches can be locked to protect against incorrect operation.
Display oscillating mechanism
(VT/F sensor only)
The display can be turned within the range of ±120° with respect to the sensor.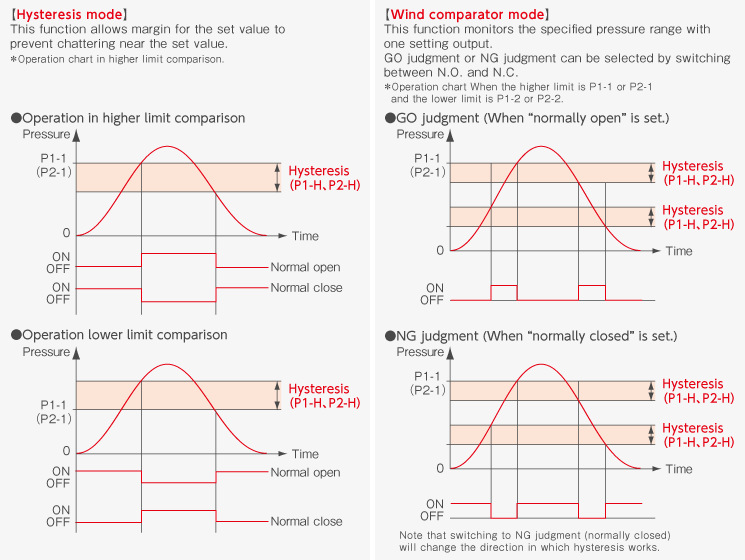 Wiring diagram

Wiring example