[Only for CC-Link] Strain Gauge Color Panel Meter for Scaling

VWM8C series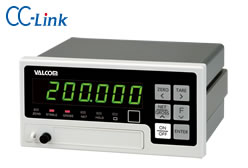 Can be connected to CC-Link directly!!
High-efficiency digital filter adopted!
Outstanding ability in locations with frequent vibrations.
Can be connected to CC-Link directly. (CC-Link interface included as standard.)
Simplified design with focus on connection with PLC.
High speed (100 times/second) and high accuracy.
Lightweight and compact body. Suitable to be embedded in control panel.
Dust- and waterproof display (when panel mounted).
Up to 42 slave units can be connected to one master unit. (Use as a remote device station)
Specifications
Applicable sensor
Various strain gauge sensors (350Ω)
Sensor power supply
DC5V±5%
Input voltage range
±7mV/V
Span adjustment range
±7mV/V
Zero adjustment range
±7mV/V
Display setting range
±999.999
Input sensitivity
0.15 µV/d or greater
A/D conversion method
Delta-sigma method
Sampling rate
100 times/sec
Non-Linearity (*1)
0.005% of full scale
Temperature coefficient
Zero: ±0.02µV/°C (Typ.)±0.1µV/°C (Max.)
Span: ±3ppm/°C (Typ.)±15ppm/°C (Max.)
Measurement display
Measurement display: 6-digit 7-segment green LED
Character height: 14.6 mm
Polarity display: 1 green LED
Status indicator: 6 red LEDs
Switches between NET and GROSS
*1 Take the accuracy of the selected pressure sensor or load cell into account.
External control input specifications
| | |
| --- | --- |
| CC-Link input and output | CC-Link Ver.1.10 remote device station By switching the number of occupied stations (for example 1, 2 or 4), up to 42 indicators can be connected to one master device when only AD-4408Cs are used. |
Other Specifications
Functions
Zero correction function, Zero tracking function, Tare setting function, Stable detection function, Hold function
Operating temperature
−10°C to +40°C
Operating humidity
85% R.H. or less (no condensation)
Dimensions
144(W)×72(H)×135(D)mm (Including screw terminal)
Power source
100 VAC to 240VAC, +10%, -15%, (50/60 Hz) 100 VAC to 240 VAC, +10%, -15%, (50/60 Hz)
Power consumption
Approximately 10VA
Installation method
Panel mount
Mass
Approximately 800g
Accessories
Instruction manual, CC-Link connector, Unit label, Terminal block cover,
Weighing capacity plate, Panel mount packing
Cailbration
| | |
| --- | --- |
| Cailbration | Calibration with an actual load or Digital span |
Selection

Dimensions (Unit: mm)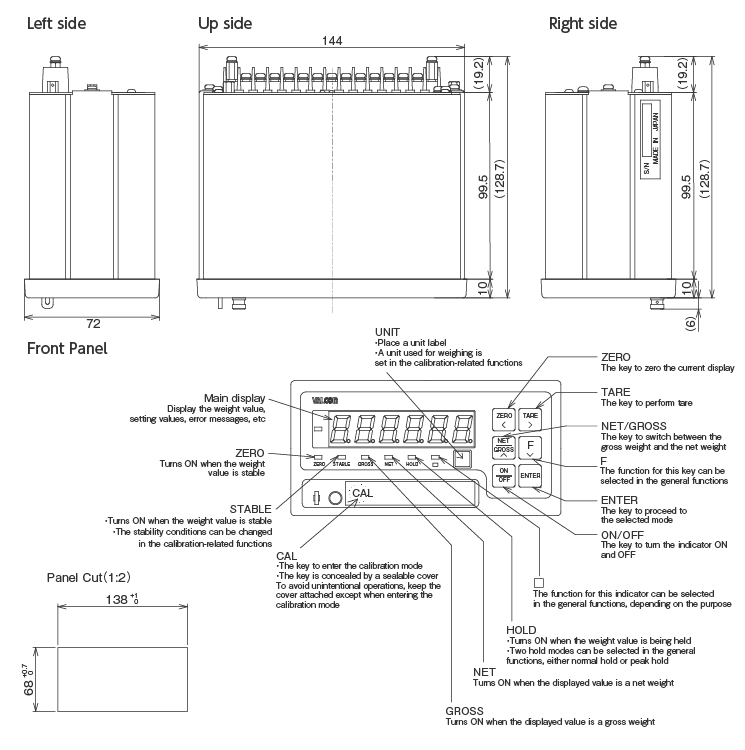 Terminal Connection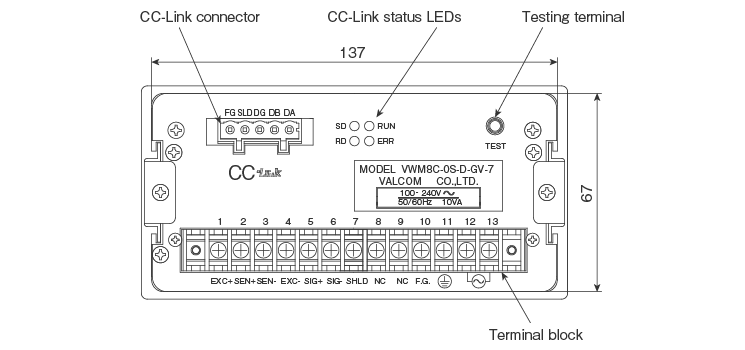 Terminal No.
Signal name
Function
1
EXC+
Load cell excitation voltage (+)

Load cell connection
2
SEN+
Sensing input (+)
3
SEN−
Sensing input (−)
4
EXC−
Load cell excitation voltage (−)
5
SIG+
Load cell input (+)
6
SIG−
Load cell input (−)
7
SHLD
Shield
8
NC
-
NC terminals are unoccupied,
but do not use them as relay terminals.
9
NC
-
10
F.G.
Frame ground
11
E
Earth ground
12
AC
AC power source
13
AC
AC power source