NEW
Digital substrate for Strain guage

AD105D
Special interface (UART) RS/485 2wire type
Digital filtering and scaling of the measurement signal
Communication via ASCII command
Limit value switches with hysteresis
Indicate status of power supply
Power fail safe parameter strong
Parameter setting and measurement via panel program software
Feature
Specially designed free software allows you to conveniently parameterize your AD105D.
First-time setup enables you to confirm communication protocol and commands. It is recommended to use the dedicated free software.
Adjustment

Initial condition confirmation is available via computer.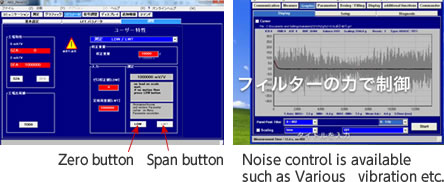 Initial setting. Peak hold of process time and filter simulation is available via computer software. It makes your product development more convenience that frequently feth date is not necessary.
Confirmation

Operating confirmation is available via graph function.


Thanks to graph function, change of weight value. Process time monitoring, peak value confirmation is available and frequently feth date is not necessary.
Specifications
Accuracy class
6000d (Input sensitivity more than 0.5µV/d)
Measuring signal input
>300Ω–4000Ω (Use one-on-one setting with the sensor.)
Bridge excit voltage
AC5V
Measuring range max
±3.0mV/V
Input sensitivity
2.0mV/Va
Measuring signal resolution max
24bit (at 1Hz)
Measuring rate
200, 100, 50, 25, 12, 6, 3, 2, 1 Hz
(Depending on output format and Baudrate)
Cut off frequency of the digital filter (-3db adjust)
20–0.01Hz
Interface cable length between AED and computer
RS-485
≤500m
Linearity deviation
±0.0025% (related to full scale value)
Temperature effect per 10°C
Zero point (related to full scale value)
±0.002%
Measuring sensitivity (related to actual value)
±0.005%
Serial interface
Electrical level AD104-R5 (RS-485)
Low: B-A<0.35V, High: B-A<0.35V
Baudrate
1200–115200Baud
Output voltage (Max)
30V
Current load, output (Max)
95mA (at 7V), 85mA (at 30V)
Supply voltage
DC7–30V
Current consumption (with 350Ω load cell)
≤70mA
Normal temperature range
−10–40°C
Operating temperature range
−10–50°C
Storage temperature range
−25–75°C
Dimensions
45(L)×22.5(W)×7(H)mm
Degree of protection to EN60529
IP00
Weight
Approx. 50g
Application Guide
Filling management. (Weight measurement)

Recommended Load Cell
Photo
Model
Rated Capacity (R.C.)
NonLinearity
Maximum Load Area
Features
VPW4MC3
0.3, 0.5, 2, 3, 5kg
±0.0150%R.C.
200×200mm
Single Point Compact, High performance
VSP4MC3MR
15, 20, 30kg
±0.0166%R.C.
450×450mm
Single Point
High capacity type
50, 75, 100, 200kg
600×600mm
VPW10AC3
50, 100, 150,
200, 250, 300kg
±0.0166%R.C.
600×500mm
Single Point
High capacity type
VS40AC3
50, 100, 200, 500kg
1, 2, 3, 5ton
±0.0180%R.C.
-
S type Load Cell Model: KN
VPW25C3
10, 20kg
±0.0166%R.C.
400×400mm
1000% overload protection Single point loadcell
IP69K Fully sealed weld structure
PW27
10, 20kg
±0.0166%R.C.
400×400mm
EHEDG compatible load cell as Industry's first
1000% overload protection Single point loadcell
IP69K Fully sealed weld structure
●Caution
The AD105D motherboard is not protected against electrostatic discharge. Relevant precautions must be taken when handling in during installation in the transducer.
*For 4-wire RS-485 devices, use jumper wires. (Refer to the manual provided with the device.)
●Important information to EMC protection.
Be sure to install AD105D motherboard into a Grounded Metal case and use shield cable.
Both of shield cables should connected with AD105D motherboard's Grounded metal case.
●Adjustment of AD105D is to be made through communication using RS interface, which requires presettings including address (ADR), baud rate (BDR), parity bit (PAR), terminator (TEX), common output format (COF), etc.
Default settings
Address: 31, Parity bit: None, Stop bits: 1
Baud rate: 9600 bps, CRLF: ON
*Number of digits of data received varies depending on the capacity of PLC. (Reference: 15 bits ±10000 or less)
External dimensions (Unit: mm)