Exhibition
VALCOM actively participates in trade shows to promote products and to offer opportunities for business talk with the visitors.
INTERPHEX JAPAN 2019

FOOMA JAPAN 2019

Mechanical Components &
Materials Technology Expo
[M-Tech] 2018
Demonstration models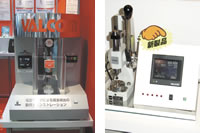 Seeing is believing. Demonstration models are presented so that the visitors can see how the VALCOM products work, and have a deep understanding.