Power Converter for Pressure Transmitters

Power Converter series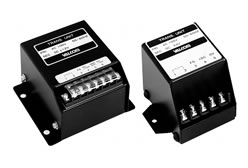 Dedicated converter unit that converts AC current into DC current with no noises, and supplies it to the pressure transmitter with built-in amplifier.
From single sensor connection to multiple sensor connection up to 20 units available.
Can be made to order according to your specification.
for Pressure Transmitters
TUA
series
Model Selection

Selection
Check
Model
Specifications
1.Model
○
TUA
Power Converter for Pressure Transmitters
2.Input Power (PRI)
AC100V
AC100V (±10%) 50/60Hz
AC200V
AC200V (±10%) 50/60Hz
AC110V
AC110V (±10%)
AC220V
AC220V (±10%)
3.Output (SEC)
4
DC24V
5
DC12V
4.Number of Sensors
1
For single:

1

N (Can be connected to one pressure transmitter.)
□□
For 2 amplifiers:

2

N, For 3 amplifiers:

3

N, For 4 amplifiers:

4

N
□□
For 5 amplifiers:

5

N, For 6 amplifiers:

6

N,
For 7 amplifiers:

7

N, For 8 amplifiers:

8

N
□□
For 9–20 amplifiers:Specify within the range of

9

N –

20

N
External dimensions (Unit: mm)