Structural Schematics for Pressure Sensors
Structural schematics for Semi-conducting pressure sensors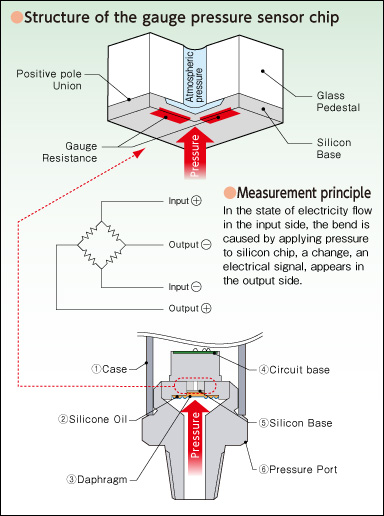 Structure of the sensor chip
In silicon chip pressure port(silicon diaphragm), silicon gauge is formed by impurity diffusion like the normal IC manufacturing process.
Applying pressure to silicon results in the bend. Depending on this, gauge resistance changes, is converted into electrical signal. (Piezoresistive effect)
This gauge includes a feature of high gauge factor compared to the metal. (metal gauge: 2-3, silicon gauge: 10-100)
Therefore, this makes it possible to gain higher output resulting in produce using thick diaphragm, improves pressure-resistant performance.
Target model
Semiconductor pressure sensor
VDP4, VSW2 (For low pressure), etc.
Structural schematics for Semi-conducting pressure sensors
Semi-conductor pressure sensors use piezoresistive silicon gauge. These detect a pressure through silicone oil, and flush diaphragm (double diaphragm method).
The materials of the part to come in contact with the liquid are Hastelloy C-22 equivalent, SUS316L, etc. Thus Thus these sensors have high anti-corrosion.
[If these sensors have G3 / 8 (pipe threads), these use the O-ring seal by FKM (fluoro rubber).]
Features
It is possible to produce each type of sensor element used to measure positive and negative pressure, compound pressure and absolute pressure.
Corrosion-resistant performance is excellent because it is possible to use Hastelloy C-22 equivalent and SUS316L as a pressure port material contacting directly to the medium.
Excellent corrosion-resistant performance is based on the thick diaphragm of silicon chip to detect the pressure.
Target model
Semiconductor diaphragm pressure sensor
VESW, VESX, VESY, VESZ, VHR3, VHG3, VAR3, VAG3, VPRNP, VPNPR, VPNPG, VNF, HS1, HV1, AS1, AV1, NS1, NV1, VESI, VESV, VSW2, VST, etc.
Structural schematics for Strain gauge pressure sensors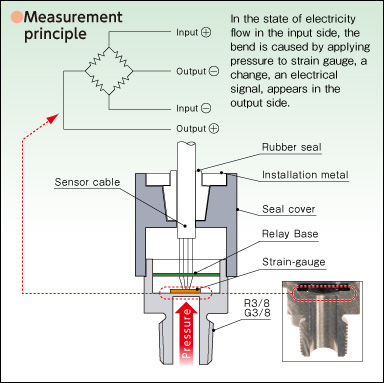 Structural schematics for Strain gauge
Structural schematics for pressure sensors using strain-gauge These sensors use the strain-gauge, which are bonded in to the diaphragm, thus these gauges convert the strain of the diaphragm by the pressure into the electrical signal.
These sensors use 4-gauges, which are bonded into the best suited position of the diaphragm (Wheatstone bridge configuration).
Features
No joint seam of welding and O-ring, one piece body with diaphragm ensures less damage and long-life.
Possible to manufacture the products with high accuracy and temperature characteristics (150°C)
Target model
Strain gauge pressure sensors
VSD4, NSMS-A6VB, HSSC, HSSC-A6V, VHS, VHST, HSMC2, HSMC, VPE, VPB, VPRT, VPRTF, VPRQ, VPRQF, VPVT, VPVTF, VPVQ, VPVQF, VPRF, VFM, VF, VFS, VTRF, VPRF2, VPRH2, etc.
Structural schematics for Thin-film type pressure sensors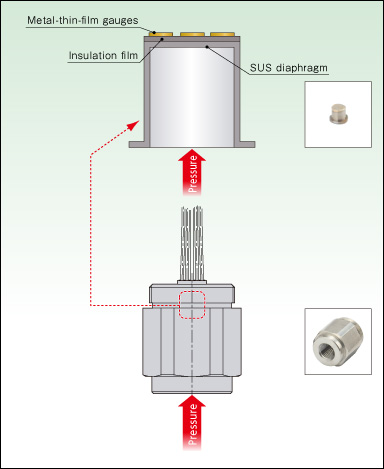 Structural schematics for Thin-film type pressure sensors
These sensors use the metal-thin-film gauges, which form on the metal diaphragm by the spatter method.
These gauges have higher output than that of strain-gauges, have lower temperature coefficient than that of Semi-conductor gauges.
Features
Excellent temperature characteristic is based on the constant temperature coefficient.
The small secular change maintains the stable output.
Possible to use at high temperature (200°C)
Target model
VSW2
Measurement principle
In the state of electricity flow in the input side, the bend is caused by applying pressure to the thin film of metal gauge, a change, an electrical signal, appears in the output side.