Made-to-order
EHEDG-certified load cell

PW27

10kg, 20kg
Overload protection (Safe overload rating: 1000%)
Aseptic load cell
Fully made of stainless steel
Special antibacterial cable adopted
Clean design, nearly free from edges and fissures
Full sealed and welded casing with IP68 or IP69K rating that endures severe cleaning environment
Specifications
Rated output
2.0±0.2mV/V
Nonlinearity
±0.0166%R.C.
Hysteresis
±0.0166%R.C.
Temperature effect on zero balance
±0.0140%R.C./10°C
Temperature effect on load
−10–20°C:±0.0117%R.C./10°C
20–40°C:±0.0175%R.C./10°C
Safe overload rating
1000%R.C. (at a point 20 mm away from the center)
Allowable dynamic load
70%R.C. (at a point not more than 50 mm away from the center)
Temperature compensation range
−10–40°C (No condensation or freezing)
Safe temperature range
−20–70°C (No condensation or freezing)
Input terminal resistance
380±15Ω
Output terminal resistance
360±10Ω
Recommended excitation voltage
5V
Excitation voltage range
0.5–12V (Max. 15V)
Insulation resistance
1GΩ or less
IP Rating
Equivalent to IP68/IP69K (Note 1)
Cable
φ5.4-6-core Shielded cable 3m
with crimp terminal
Creep 30min: 0.017%R.C.
(Note 1) Sealing performance of the cable outlet may deteriorate due to the change of cable jacket over years.
Model selection
| Selection | Model | Rated capacity | Deflection at R.C. | Maximum Load Area | Weight |
| --- | --- | --- | --- | --- | --- |
| | PW27C3MR-10kg | 98.07N | 0.18mm | 400×400mm | Approx. 0.8kg |
| | PW27C3MR-20kg | 196.14N | 0.18mm | 400×400mm | Approx. 0.8kg |
External dimensions (Unit: mm)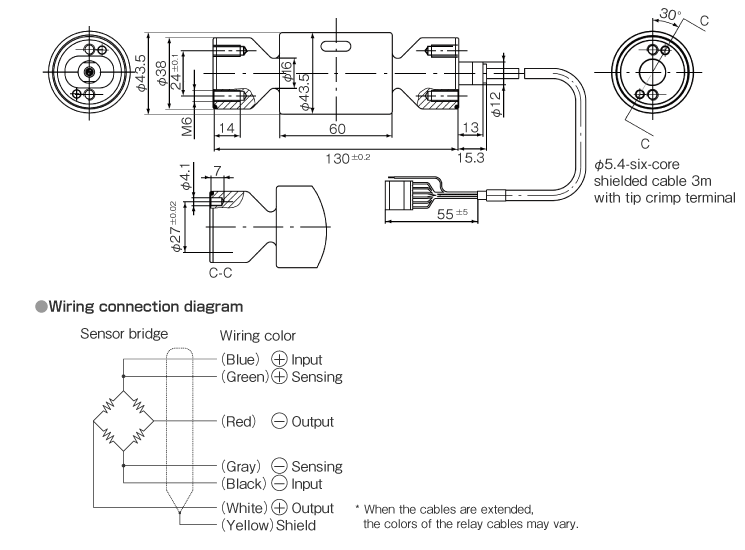 What is EHEDG ?
The European Hygienic Engineering and Design Group (EHEDG) was founded in 1989 as a consortium of equipment manufacturers, food producers, research and educational institutes, as well as public health authorities, with the common aim of promoting hygiene during the processing and packaging of food products.
EHEDG provides certificates for the benefits of equipment suppliers and food producers. EHEDG may authorize the use of the EHEDG certification logo for the equipment complying with the EHEDG hygienic engineering standards.
From the hygienic engineering perspective, EHEDG activities focus on "ensuring food safety" in food production industry and "providing practical guidelines for sound food production".
EHEDG activities are not limited to Europe. Based on the philosophy of global harmonization, EHEDG is working on many projects in cooperation with ISO, IDF, as well as 3-A, NSF in the United States, and other standard-setting organizations worldwide.
To assure and maintain food quality and safety, it is necessary to understand correct hygienic engineering and to maintain and control the production systems. EHEDG has provided 39 guidance documents for proper hygienic engineering for different areas of food production equipment and machinery.