High Accurate Intelligent Digital Pressure gauge

VST series

100–3500kPa
High accuracy: ±0.25%F.S. ±1 digit or below (Service temp.: 0 to 50°C, Overall accuracy including temperature characteristics)
Usage: Switch and sensor.
Use of AC100 V/AC 200V is possible.
The best for visualization of an on-site display
| | |
| --- | --- |
| Measured medium | Water, oil, gases or other media that will not corrode SUS316L and Hastelloy C-22 equivalent. |
| Pressure type | Positive pressures can be measured. |
| Pressure range | 100–3500kPa |
Feature
High accuracy
Overall accuracy (Non Linearity, Hysteresis, Repeatability and Temperature characterisitic(0 to 50°C) included): ±0.25%F.S.
Pressure is displayed by 4 digit.
High protective performance and the function of fullness
Equivalent to Protective construction JIS C0920
Simulation, Damping, Moving average, Maximum and Minimum memory, Peak hold
AC100 to 240V Free power supply
Use of AC100 V/AC 200V is possible.
2 setting + 4 to 20mA Analog output
Usage: Switch and sensor.
Analog output: Scalable, and high resolution
Simulation function is included for loop checks of the analog output
Setting value of the relay output is displayed in the two sub-display
The best for visualization of an on-site display
Main display changes to red, orange, and green
Main display is large LED display of character height 14mm
Specifications
Display
−5000–5000
Display Color
Main Display: Red or Orange or Green (Arbitrary setting), Sub Display: Red
Rated capacity
100, 200, 500, 1000, 2000, 3500kPa
Calibration Range
0–100, 200, 500kPa
1, 2, 2.5, 3.5MPa
Accuracy
±0.25%F.S.±1digit or less
[Non Linearity, hysteresis, repeatability, Temperature characteristics of 0–50°C(25°C standard) included]
Output Channels
2 setting relay + 4–20mA output
Setting output Rating control capacity (Resistive load) AC240V 3A. DC30V 3A
Mechanical Lifespan: More than 50 million times (Switching frequency 300 times/minute)
Electrical Lifespan: 100,000 times or more (Resistive load, Switching frequency 20 times/minute, In rating control capacity)
Response time: Approx. 20msec (*1)
Analog output, Scaling: Can be set as desired
Load Resistance: 500Ω or less, Response time: Approx. 10msec (*1)
Use Temperature Range
Temperature: 0–50°C(Temperature of medium to be measured: 0–70°C)
Safe Overload Rating
100kPa, 1MPa:400%R.C. 200kPa:350%R.C.
500kPa, 2MPa:150%R.C. 3.5MPa:150%R.C.
IP Rating
Equivalent to JIS C 0920 Dust‐proof and Water-jets-proof type (*2)
Vibration-Proof
19.6m/s²(2G) 10–60Hz X·Y·Z 2 hours each
Connection Screw
Rc1/4
Conformity Standard
CE Marking (EMC Directive, Low Voltage Directive, Europe RoHS)
Power Source Voltage
AC100–240V 50/60Hz
Consumption current
15VA or less
Functions
Simulation, Damping, Moving average
Maximum and Minimum memory, Peak hold
Pressure Port Material
Equivalent to Hastelloy C-22
Connection Screw Material
SUS316L
Weight
Main body: Approx. 820g, Dedicated bracket: Approx. 85g
Accessories
Dedicated bracket, Screw(mount bracket), M20 hall plugnut
Operating manual 1 copy (Specify English or Japanese.)
Test report 1 copy
Options (*3)
Cable gland [Made in Seiwa Electric Mfg. Co.,Ltd.: SCT-14]
(*1) 0–90% Response time. When dumping and a moving average are set as the fastest.
(*2) The state that cable grounds more than IP65 are connected to.
(*3) Not attached by default. Contact our sales office for details.
Model Selection

Selection
Check
Model
Specifications
1.Model
○
VST
High Accurate Intelligent Digital Pressure gauge "VALCUBE"
2.Output
○
32
2 setting relay + 4–20mA
3.Power
○
7
AC100–240V
4.Calibration
100.0kPa
(0.0–100.0kPa)
Rated capacity

100KPG

designation
200.0kPa
(0.0–200.0kPa)
Rated capacity

200KPG

designation
500.0kPa
(0.0–500.0kPa)
Rated capacity

500KPG

designation
1000kPa
(0–1000kPa)
Rated capacity

1000KPG

designation
1.000MPa
(0.000–1.000MPa)
2000kPa
(0–2000kPa)
Rated capacity

2000KPG

designation
2.000MPa
(0.000–2.000MPa)
2500kPa
(0–2500kPa)
Rated capacity

3500KPG

designation
2.500MPa
(0.000–2.500MPa)
3500kPa
(0–3500kPa)
3.500MPa
(0.000–3.500MPa)
5.Sensor Type
○
H
Semiconductor thin-film type sensor
6.Rated Capacity(R.C.)
100KPG
100kPa
Display/Calibration

100.0kPa

designation
200KPG
200kPa
Display/Calibration

200.0kPa

designation
500KPG
500kPa
Display/Calibration

500.0kPa

designation
1000KPG
1MPa
Display/Calibration

1000kPa

1.000MPa

designation
2000KPG
2MPa
Display/Calibration

2000kPa

2.000MPa

designation
3500KPG
3.5MPa
Display/Calibration

2500kPa

2.500MPa

3500kPa

3.500MPa

designation
7.Pressure Port Type/Size
○
C2
Rc1/4 (female screw)
External dimensions (Unit: mm)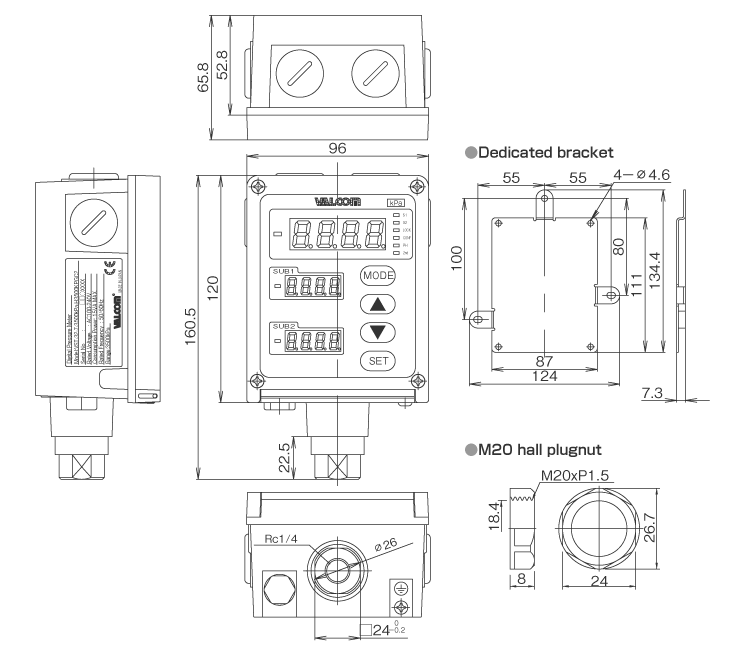 Terminal box wiring diagram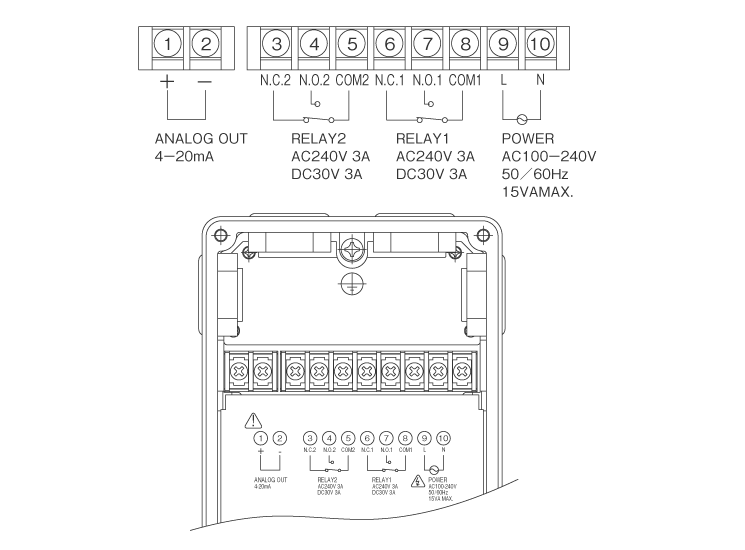 Cable gland(Option)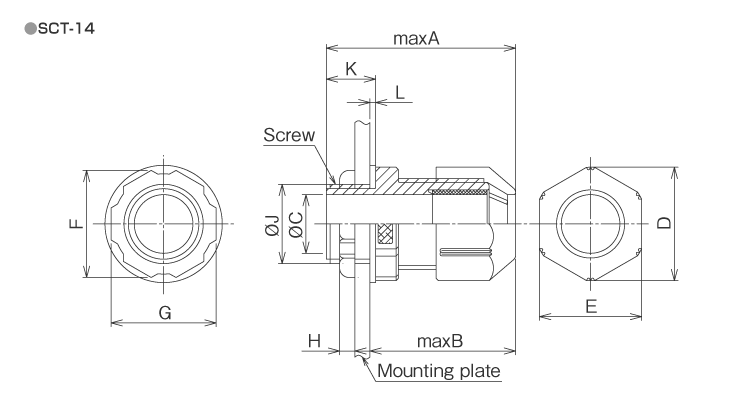 Model
Outer diameter of pulsation pressure
Screw
Diameter of mounting hall
Mounting plate thickness Max
Straight pipe thread
Thick steel duct thread
Outer diameter of the screw ØJ
Screw length K
SCT-14
Ø10.5–14.5
G1/2
CTG16
21.0
13.0
Ø22
4
Model
Main body and cap dimensions
Locknut dimensions
Rubber packing thickness L
maxA
maxB
C
D
E
F
G
H
SCT-14
50.0
38.5
15.5
30.0
27.0
28.5
27.0
4.0
1.5