NEW
Compact Strain Gauge Module with RS-485 (Modbus RTU) Interface

VWM30R series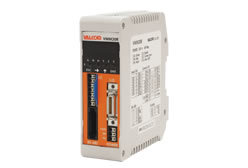 High-efficiency digital filter adopted!
Reliable weighing even in environment subject to frequent vibration
DIN rail mounting type suitable for installing into control box
Flow rate calculation function included
High-speed sampling 1000 times per second
Internal resolution Approx. 16,000,000
High-performance dual digital filter included
Remote I/O functions (Input terminal status monitoring, output terminal ON/OFF)
Control I/O (6 inputs, 8 outputs) included as standard feature
Other functions include: Gravity acceleration correction, higher order linearity correction (digital linearization), HI/LO limit detection, hold, dual digital filter, load cell connection diagnosis, etc.
Analog unit
Input sensitivity
Over 0.15µV/d (d=minimum division)
Maximum measurement range
-35mV to +35mV (-7mV/V to +7mV/V)
Zero adjustment range
-35mV to +35mV (-7mV/V to +7mV/V)
Load cell excitation
DC5V±5%, 60mA
Remote sensing function included
Up to 4 × 350Ω load cells can be connected
Temperature coefficients
Zero: ±0.02µV/°C (Typ.), ±0.1µV/°C (Max.)
Span: ±3ppm/°C (Typ.), ±15ppm/°C (Max.)
Nonlinearity
0.005% of F.S. Max.
Input noise
Less than 0.3µVp-p (Typ.)
Input impedance
10MΩ and above
A/D conversion method
Delta-sigma modulation
Internal resolution
Approx. 16,000,000
Display resolution
Max. 99,999d (within 20,000d recommended)
Sampling rate
1000 times per second
Calibration
Actual load calibration or digital span calibration not using actual load.
Digital unit
Display elements
Measurement display: 5-digit red LED 7-segment display, Character height 5.3mm
Polarity display: 1 red LED
Status display: 6 red LED
Measurement display
Adjustable net/gross weight display
Display range: -99,999 to 99,999 (Minimum division (d) options 1, 2, 5, 10, 20, 50)
Status display
GROSS, NET, HOLD, STABLE, ZERO, and custom user-defined function
Key switches
F/ESC, →(Zero), ↑(Zero offset), ENT
Communication display range
-99999 to 99999 (5 digits) or -999999 to 999999 (6 digits) selectable
Interface
Load cell input terminal
7-pin spring-clamp terminal block
RS-485
Power clamp Board mount header (3M)
Control I/O /
Standard serial output
20-pin MDR connector (Female)
* Cable-side connector not included.
General specifications
| | |
| --- | --- |
| Memory backup | Nonvolatile memory can hold data for more than 10 years |
| Power supply voltage | DC24V |
| Power consumption | 6W (Max.) |
| Operating temperature and humidity range | -10°C to 50°C/ Below 85%RH (Condensation must be avoided) |
| External dimensions | 35(W) × 110(H) × 101(D) mm |
| Attachment method | DIN rail mount |
| Weight | Approx. 200g |
| Function | Dual digital filter (HPDF1, HPDF2), Control I/O can be assigned with functions as desired, Sequential weighing, Remote I/O, Gravity acceleration correction, Linearity correction function, HI/LO limit detection function, Hold, Load cell connection diagnosis, Near zero detection, Zero tracking, Power-on zero, Flow rate calculation function (Calculates flow rate per hour/min./sec.) |
| Accessories | Basic instruction manual, RS-485 connector (3M, 35505-6200-A00 GF) |
Selection

Application Guide
Conveyor weight checker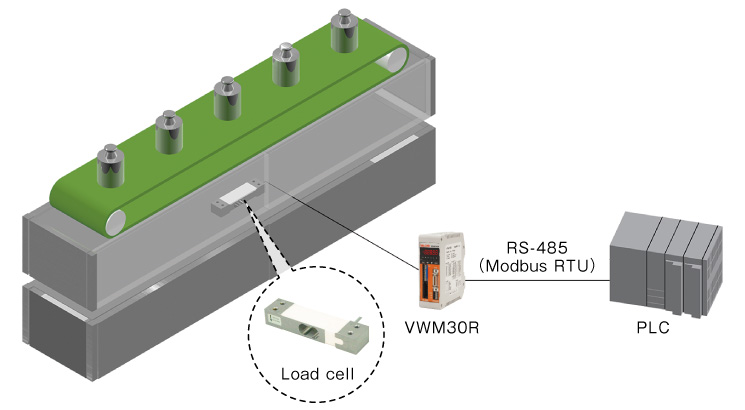 Dimensions (Unit: mm)