Round type Color Bar Graph Meter "RAINBAR" series

RBC series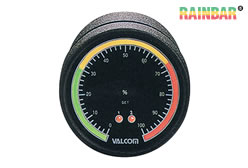 Display changes among red, orange and green, intuitively easy to see.
High accuracy thanks to the split-mounted 101-dot LED.
Easy-to-view color bar graph instead of digital display.
Supports various signal inputs for wide range of use.
Compact, low-cost, high brightness and easy-to-view design.
| | |
| --- | --- |
| Input signal | Specify among 1 to 5V, 4 to 20mA(4-wire, 2-wire), 0 to 5V, 0 to 10V. |
| Sensor specifications | Select from Pressure Sensor Analog output type or output devices above. |
| Use | Thermometer, pressure meter, load meter, level meter, flowmeter, tachometer, etc. |
Specifications
Form
Round type
Display
3-color LDE bar graph meter: 101 dots
Red LEDs for set value check 2 points
Sampling frequency
Approx. 100 cycles/s
Response time
Approx. 0.5s (Following speed for step inputs 0-10V)
Functions
Brightness control, Zero/span adjustment
Accuracy
±0.4% ±1 dot
Operating temperature
−20–70°C (No freezing)
Operating humidity
20–90%RH (No condensation)
Connections
Terminal block (M3 screw)
Dimensions
φ104×D70 (D:Protrusions not included)
Weight
Approx. 470g (Varies with specification)
Accessories
Operation manual (1 copy), Inspection sheet (1 copy)
Model Selection
Selection
Cheak
Model
Specifications
1.Model
○
RBC
Round type Color Bar Graph Meter "RAINBAR" Series (Color combination: Red, Orange, Green)
2.Sensor connecting
○
T
Separate
3.Display Range
Maximum scale value and unit (e.g.)100%, 100kPa, 100cm
4.Output
A2
Analog output 1–5V (Safe load resistance 10kΩ or more)
A3
Analog output 4–20mA (Safe load resistance 250Ω or more)
A4
Analog output 0–5V (Safe load resistance 10kΩ or more)
A5
Analog output 0–10V (Safe load resistance 10kΩ or more)
1VA
Comparative contact output 1 relay output
Output contact capacity MAX4A Load resistance 250VAC
2VA
Comparative contact output 2 relay output
Output contact capacity MAX4A Load resistance 250VAC
1VAO
Comparative contact output 1 photo-MOS relay output
Output contact capacity MAX0.1A Load resistance 400VAC/DC
2VAO
Comparative contact output 2 photo-MOS relay output
Output contact capacity MAX0.1A Load resistance 400VAC/DC
5.Output type
L or H
Example: 1VA(O)

H

or

L


2VA(O)

HH

or

HL

or

LH

or

LL


*L=Lower limit, H=Higher limit
6.Power supply [Current consumpiton]
○
4
DC24V (18–36V)
7.Input signal
A2
1–5V (Input impedance 25kΩ)
A3
4–20mA (4-wire) (Input impedance 150Ω)
A4
0–5V (Input impedance 32kΩ)
A5
0–10V (Input impedance 34kΩ)
A6
4–20mA (2-wire) (Input impedance 150Ω)
Dimensions (Unit: mm)